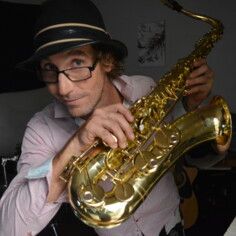 Alexandra Hills

Saxophone Lessons | Clarinet Lessons, Guitar Lessons, Piano Lessons | Theory Lessons, Composition Lessons, Jazz Improvisation Lessons, Mixing and Mastering Lessons, Skype Lessons
will travel to you within: Eastern suburbs please enquire.
Pricing: From $35
Styles: Jazz, classical, popular
Suitability: All levels
---
Bio
Andy is a professional saxophonist, guitarist, vocalist, arranger, composer and educator based in Brisbane, Australia. Andy was trained on the Saxophone by Andrew Butt (Andrew Butt Trio) and later studied Jazz improvisation under the tuition of Greg Quigley and Vince Genova, who studied under the great Oscar Peterson and later toured with Harry Belafonte. Andy was a member of the 1st Division Royal Australian Artillery Band Brisbane at the age of 17 and had the fortunate experience of playing alongside the world-renowned US Marine Jazz Band aboard the USS Blue Ridge. He had previously played with Australian greats James Morrison and Greg Hunt prior to enlisting.
---
Teaching Info
I believe the most important part of beginner playing is to find the fun. It's what will drive you to practice, improve, and enjoy your time with the instrument.
I base my teaching around the Circle of Fourths. Scales and Modes are of the utmost importance, especially if you wish to improvise. I will tailor your lesson to your individual needs and/or talents. All beginner lessons start with the fundamentals of instrument technique developed alongside music theory knowledge.
Guitar can be taught differently to take into account the wants and needs of the student. Please feel free to ask as I have played a range of instruments in many styles of bands and have allot of different musical tastes and influences