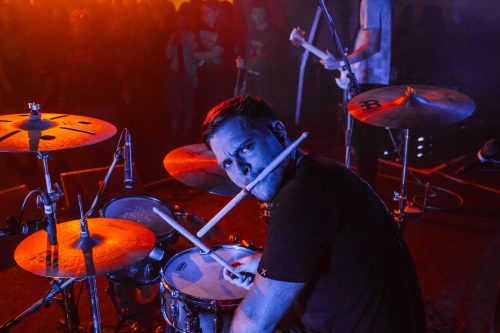 Tingalpa

Drum Lessons | Artist development, Theory Lessons
will travel to you within: Inner suburbs , Eastern suburbs , Moreton Bay Region please enquire.
Qualifications: AMEB CPM Grade 4, Bach. Ent (BMus), QMTA (Prof.)
Pricing: $40 + GST Half Hour / $80 + GST One Hour
Styles: Rock, Pop, Metal and Funk
Suitability: Beginner to Advanced players, ages 8+
---
Bio
Matt is a passionate Brisbane based drum teacher and accomplished performer with over 20 years of playing knowledge and 15 years of teaching experience under his belt. Picking up his first set of sticks when he was 8 years old after learning classical piano for many years, Matt started to teach drums at the ripe old age of 16 and hasn't looked back since. Completing all four AMEB CPM Drum Kit examinations before finishing his HSC, Matts passion for teaching led him to Brisbane where he completed a Bachelor of Entertainment Business Management (2014) at JMC Academy; opting to learn the music business world whilst continuing to teach drums and tour Australia. Studying under Ross Moulle (Bee Gee's) and Grant Reekman (Independent) in his formative drum years, Matt has a firm understanding of the importance of creativity and fluidity as well as a solid appreciation for precision and technical ability. Drawing on this wealth of knowledge, Matt has written two teaching manuals for beginner to advanced players – placing equal importance on both improvisation and traditional structured reading that form the basis of his curriculum alongside the AMEB Rockschool Grade books. In 2021, Matt's teaching accomplishments were recognised by QMTA by being awarded with their highest level of professional membership and has a weekly roster of over 75 students.
As a player, Matt has toured extensively throughout Australia and New Zealand both as a session musician and with his own bands. Having shared the stage with acts such as Stan Walker and Short Stack plus a number of international touring bands including Switchfoot and Silverstein, Matt promotes a relaxed yet passionate approach to live performance. Matt's latest independent album "Mr. Spaceman" (2017) from his current band 'Young Lions' was met with critical acclaim worldwide, earning an iTunes Global Top #3 slot, #3 on Australian Independent album charts as well as rotation on Australian, UK and American radio and air-time with Channel 9, including features on the TODAY show and JJJ. Matt is continuing to expand his horizons this year with headline Australian tours with Young Lions, national main support and releasing his 4th studio album.
---
Teaching Info
Each lesson with Matt is individually tailored to the individual students needs. With a very clear understanding of what is required to take a even a brand new player to proficiency, Matt will be able to hone in on what you need to work on and show you the way to master it. Generally speaking Matt teaches out of his own teaching manuals alongside repertoire from various sources including the Rockschool Grade Books whilst still encouraging individual music tastes.
I had been teaching myself drums for a few years before I started to receive lessons from Matt. It wasn't long until he equipped me with the skills to study music at university, majoring in percussion. I luv Matt wif all me 'art
Chris Trupp
Matt's attrition is amongst the lowest of any of my staff, which is remarkable when considering he is establishing a program and therefore many students are new to the instrument. To be honest, I wish I had a "Matt" working for me on every instrument.
Leah Bond - Owner/Director at Brisbane Music Studio
In all situations, Mr Gibson has undertaken his responsibilities with professionalism and competency. He has a unique ability to connect with students of all ages, backgrounds and experience levels, and has fulfilled the College's expectations on all accounts.
Leigh Waldeck, Music Coordinator // Brisbane Christian College
Matt is an excellent drum teacher. He is knowledgeable, intelligent and engaging, developing a strong rapport with his students… Matt approaches all age groups and ability levels with equal ease and competence.
Gavin Nicol, Owner of The Music Spot Education Centre