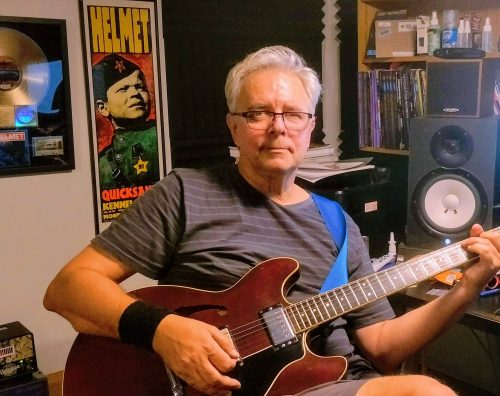 Sunnybank

Guitar Lessons | Electric Bass Lessons
will travel to you within: Southern suburbs please enquire.
---
Bio
Learn  with the only multiple RIAA award winning  Grammy nominated Brisbane guitar teacher featured  twice in Guitar Hero, on Grand Theft Auto Radio, Rocksmith, and on Beavis and Butthead.
Our one on one individualised, friendly, relaxed beginner and intermediate guitar lessons focus on your goals and musical aspirations, whether they be to:
​
play your favourite songs or a song of your dreams;
improve your soloing, rhythm or  acoustic technique; or
learn how to write songs and record your ideas
Just getting started on a  lifelong friendship with the guitar, or perhaps you started playing a long time ago but responsibilities got in the way?
​
Always wanted to play the guitar or wish that you'd stuck with it?
It's never too soon to begin or too late to start learning and bring some enjoyment back into your life.
​
Forget about overpriced group lessons, onerous contracts and hard-sell marketing we provide the flexibility to learn when it suits you and develop your own style at your own pace.
Lessons include electric  acoustic and bass guitar, reading tabs or notation, exploring alternate tunings, rhythm and lead playing, practical theory, improving your technique, songwriting and demoing, or playing songs of your choosing in the style of your choice (including but not limited to Rock, Pop, Metal, Acoustic, Electric Punk, Alternative, Grunge, Classic Rock, Country, and Blues).
Lessons are available weekdays, evenings, and weekends—Beginners Welcome!
"For some years, on and (mostly) off, I've been on a path of discovery, frustration, and joy in my journey to learn how to play the guitar and have fun doing so. Some of this has been of my own making, and some in the search for a teacher that suits my needs and wants. I don't want to play on a big stage, but to enjoy music with friends or solo, just for the sake of it. Anyway, my search has ended…Peter Mengede has an instinct and talent as a teacher that I have not found elsewhere, and genuinely takes an interest and the time to meet (and anticipate) just the stuff to make learning pleasurable, and manageable, but gently stretching my skill as well, so I can improve."
Brad
If you want a professional guitar mentor in Brizzie and want someone who's rocked stadiums around the world for nearly 30 years, here's your guy. He was a founding member of Helmet. Technique, tone & technical gear; the man's a master of heavy music. Peter is mentoring my bandmate. Mid last year he came to a rehearsal for a jam, and wound up playing some gigs (which blew us away) and spending time in the studio with us on our fist EP. He's not only helped my bandmate come along in leaps and bounds, he's taken us from just another local heavy originals act, to a band capable of holding our own on a stage alongside some seriously good touring acts. Opportunities to learn from a player of this caliber & experience are few & far between so if you reckon you could benefit from pro mentoring focused on improving your live performance, call him and invest in yourself.
Ben
You know what you're coming to get and that's what you receive; a no-nonsense, no-frills solid guitar lesson with a well recognised teacher and player in a comfortable musical setting (rather than some sterile shopfront).
Brendan
Peter is a passionate guitarist, and this shines through in his teaching. He has taught my son for over four years, and has demonstrated great patience and flexibility in assisting my son in expanding his ability with the guitar. Peter is always well prepared for his lessons and combines a nice balance of learning traditional techniques along side the musical preference of the student. Peter always offers encouragement and suggests areas for practice. I would highly recommend Peter as a teacher for any student at any level.
Chris
I really enjoy our on one lessons and wouldn't have them any other way. Ï've tried group lessons before and didn't work for me. With Peter I get to work on what I want when I want.
Jim
I had a guitar lesson yesterday... yes, you read right. I've been playing bass since I was 14, with proper tuition for a couple of years to begin. I have also picked up a guitar plenty in the past forty years too but what I learned in one hour with Peter Mengede of Sunnybank Studios was nothing short of amazing. The most basic of mistakes I was making that made my playing sloppy and/or slowed me down, simple technique mistakes that Peter pointed out in the nicest possible way. For an artist with his credentials, there's no ego in the room, no attitude, just a genuine love of music and, I felt, he displayed a genuine desire to see me improve my playing. If you are in or around Brisbane and looking for tuition (for yourself or your children), or you are a band looking to really polish your act, and to be taught by an exceptional artist who has played packed stadiums, I can't recommend Peter highly enough.
Mark A
Peter is a great, humble, teacher with a wealth of experience and playing ability. He has taken my playing skills beyond more than I thought possible. It is an absolute blast every lesson.
Gus