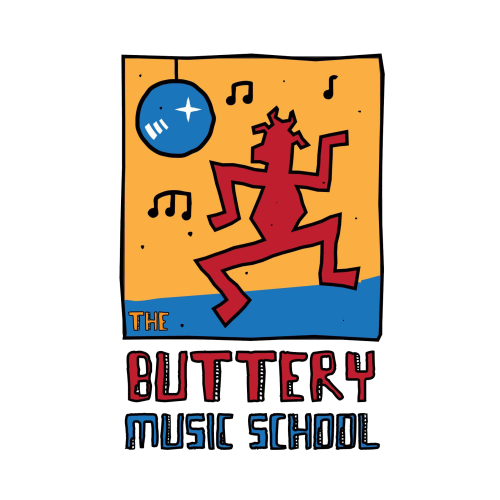 Hamilton

Drum Lessons, Guitar Lessons, Keyboard Lessons, Piano Lessons, Singing Lessons | Song Writing Workshops, Mixing and Mastering Lessons
Pricing: $40 for group lessons, $65 for 1 on 1 lessons
Styles: all styles
Suitability: 4 to 1000 years old
---
Bio
The Buttery Music School gives music lessons in drums, keys, guitar and singing plus a band program and intro to music program all inside shipping containers that have been converted into sound proofed, air conditioned spaces of creative happiness.
We specialise in teaching 1 on 1 and small group music lessons to people aged 4 years to 1000 years old. If you are over 1000, you are too old.
We run a band program helping kids (and people of all ages) form bands, write songs, record albums, and start gigging.. Wherever you want to take your musical journey, we are there.
For the littlies aged 4 to 7 years old we have a special Little Rockers program, where we learn all the basics of music while going on a thrilling journey from trash can percussion to mini keyboards to ukulele.
---
Teaching Info
Check out our teachers and more info on our lessons by visiting www.thebutterymusicschool.com
Simply the MOST AWESOME music school. A must for any kid who already loves music in any shape or form or who is dipping their toe in for the first time. The Buttery is all about the passion and love of music - no pressure, no exams, just pure enjoyment. The teachers are amazing, super-skilled artists themselves who connect with and inspire the kids in very real ways . The school also has the most cheerful and nurturing environment so my kids can't wait to get there each week. Their skills in drumming, keys, singing and performing in front of audiences, have astounded us. Could not recommend more!
Mai Turner
Buttery is an amazing school. My son attended for guitar lessons and had an amazing time. The teachers are great and take the time to find common interests so they can personalize the lessons to the students. Highly recommend checking them out!
Jason Reed
An unbelievably good music school. My son has been learning to play guitar with Tim for the last few years and loves it so much. We have watched Bobby learn a new skill, challenge himself but also gain so much self confidence. This year he even started their band programme and so had the opportunity to meet other kids and learn how to play with other instruments. He performed on stage for the first time this year and the whole community that Buttery created made it such a safe and special space for these kids. We were such proud parents. Thank you so much Jaymee, Tim and Sanjay. You guys are amazing!
Jackie Schougaard